Montana SR22 Insurance Filing Information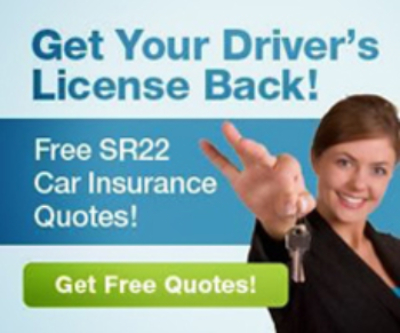 Montana SR22 Information & Filings
In the State of Montana, if you are convicted of a DUI (Driving Under the Influence), your license will be suspended for at least 6 months.
In order to get your Montana driver's license back, you will need to:
purchase Montana SR22 insurance.

pay the reinstatement fee.

complete an alcohol treatment program.

(possibly) install an ignition interlock device.

(possibly) take a driver examination.
Montana's Ignition Interlock Program:
A breath alcohol ignition interlock device (BAIID or IID) is a small computerized device that attaches to your ignition. In order to start your vehicle, you will need to blow into the device for 4-5 seconds. If your breath sample demonstrates that you have not been drinking, then the vehicle will start. Once the vehicle starts, the IID will ask for a "rolling retest" periodically.
If you have been convicted of a first offense DUI with a blood alcohol concentration (BAC) of 0.16 or greater, or if you have been convicted of a subsequent DUI, you will need to install an ignition interlock device in the vehicle(s) you drive.
Currently, the following vendors are approved to install and service ignition interlock devices in Montana:
• Big Sky Ignition Interlock (406) 599-5362
• Consumer Safety Technology, Inc. (877) 777-5020
• DMB Interlock & Safety Services, Inc. (406) 698-7297
• Mountain Peaks, Inc. (866) 453-6784
• Smart Start, Inc. (800) 880-3394
The person convicted of the DUI is responsible for all the IID fees. For example, one Montana vendor charges $85 for installation, and then $2.50 a day after that. This vendor also asks for a $35 deposit at the time of installation. There may also be additional recalibration and removal fees.


For More Information:
You can contact the Montana Motor Vehicle Division at 406-444-3933 or mvd@mt.gov.
For more information about the consequences of a DUI in Montana, visit our Montana DUI laws page.
Additional Montana DUI Resources
Montana First Offense DUI – First offense information including penalties, fines, potential jail time, license suspension, DUI classes, and more.
Montana DUI Laws – Here you will find a comprehensive and detailed explanation of Montana's DUI laws including all offense levels and penalties.
Montana Alcohol DUI Classes – We offer a complete listing of state approved DUI & alcohol abuse classes.
Montana Bail Bondsmen – Comprehensive list of Montana bail bond agents including address, phone, website, etc.