South Dakota SR22 Insurance Filing Information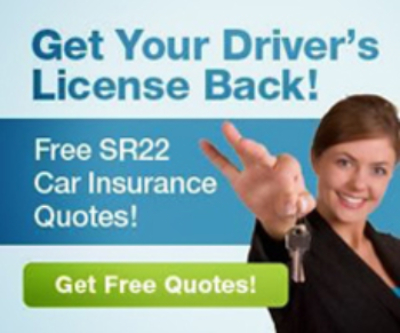 South Dakota SR22 Information & Filings
If you are convicted of a DUI in South Dakota, your driver's license will be suspended or revoked. In order to get your license reinstated, you will be required to:
Obtain South Dakota SR22 insurance.

Pay a reinstatement fee of $50 to $200.

(Possibly) take a vision test.

(Possibly) take a knowledge test.

(Possibly) take a driving test.
South Dakota SR22 Insurance:
SR22 insurance is proof of financial responsibility. An SR22 is a form that your insurance company will file with the State. The SR22 proves that you have auto insurance in at least the following amounts:
$25,000 bodily injury liability insurance for one person

$50,000 total bodily injury liability per accident

$25,000 property damage liability per accident
You will be required to carry SR22 insurance for three years. Even if you don't own a vehicle, you will still need a non-owner SR22 policy. If your auto insurance is allowed to lapse during that time, your insurance company is obligated to notify the State. This will likely result in the loss of driving privileges, so it is important to pay your premiums on time (or in advance).
SR22 insurance is considered a high-risk insurance and it can be expensive. It is a good idea to compare rates to find one that is reasonable. You can do that here:


South Dakota and Ignition Interlock:
As of July 2011, South Dakota is currently running an ignition interlock pilot project.
An ignition interlock device (IID) is a breathalyzer that is wired to a vehicle's ignition. In order to start a vehicle, a driver must blow into the IID to prove that he or she hasn't been drinking. The device will then ask for a periodic retest for as long as the vehicle is running. An IID records all failed tests, all refusals to submit to a test, and any attempt made to tamper with the device. All of this data can be downloaded from the device for the courts.
Many states require the use of an IID after a DUI conviction. Statistics show that ignition interlock programs reduce the number of repeat DUI offenders.
For More Information:
For more information on South Dakota DUI regulations, visit our South Dakota DUI laws page.
You can also contact the South Dakota Department of Public Safety at 1-800-952-3696 or 605-773-6883. Or you can email them at dps.sdlicensinginfo@state.sd.us.
Additional Alabama DUI Resources
South Dakota First Offense DUI – First offense information including penalties, fines, potential jail time, license suspension, DUI classes, and more.
South Dakota DUI Laws – Here you will find a comprehensive and detailed explanation of South Dakota's DUI laws including all offense levels and penalties.
South Dakota Alcohol DUI Classes – We offer a complete listing of state approved DUI & alcohol abuse classes.
South Dakota Bail Bondsmen – Comprehensive list of South Dakota bail bond agents including address, phone, website, etc.