Connecticut SR22 Insurance Filing Information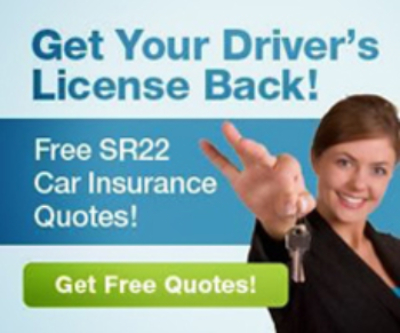 Connecticut SR22 Information & Filings
In Connecticut, the blood alcohol limit while operating a motor vehicle is 0.08. If you are convicted of a DUI (Driving Under the Influence), you will lose your driver's license for the following periods of time:
1st offense: 1 year

2nd offense: 1 year ( plus 2 years mandatory ignition interlock device)

rd or subsequent offense: permanent revocation (after 6 years, one may request a hearing)
Connecticut's SR22 Insurance Requirements
In order to get your driver's license reinstated, you will need to purchase Connecticut SR22 insurance. An SR22 is a Certificate of Financial Responsibility. An SR22 proves to the state that you have the minimum amounts of insurance. In Connecticut, these minimum limits are:
$20,000 for injury or death of one person in one accident

$40,000 for injury or death of two or more persons in one accident

$10,000 for damage to property in one accident
You will need to buy SR22 insurance from a motor vehicle insurance provider, but not all providers offer it. You can find those that do here:
Getting Your Driver's License Back in Connecticut
If you are nearing the end of your suspension period, the DMV recommends beginning the restoration process two weeks before the end of your suspension.
For information on how to get your driver's license reinstated in Connecticut, you can call 860-263-5720. This line is open 24 hours a day, 7 days a week.
Connecticut DMV offices are not allowed to help you with license restoration. All transactions and correspondence should be done through the mail:
Connecticut Department of Motor Vehicles
Driver Services Division
60 State Street
Wethersfield, CT 06161-2525


Connecticut Ignition Interlock Device Program
Connecticut has an Ignition Interlock Device Program. If one has been convicted of a second DUI, he or she will be required to keep an IID installed in any vehicle that he or she drives for a period of 24 months after the end of the one year suspension. Click here for the Ignition Interlock Device Application. There is a $100 IID administration fee that must be mailed with the application fee.
In addition, the user is responsible for installation and operation fees. Once the DMV has approved an application, one can go to an approved vendor to have the device installed. Once it is installed, the installation confirmation forms must be returned to the DMV. Once the DMV confirms that they have received those forms, one's driving privileges should be restored. It is then up to the driver to return to the vendor every 60 days for calibration. Failure to do so will result in re-suspension of driver's license.
For more information about the Ignition Interlock Program, call 1-860-263-5720. Click here for a list of Connecticut's approved Ignition Interlock Device Venders.
Additional Connecticut DUI Resources